Golden Garb is going to be a series of ongoing posts about the iconic and inspiring clothing of great characters and gentlemen, be they real or fictional, who have had an impact on my own personal style, taste and wardrobe over the years. First up, it's mineral prospector-turned-oil tycoon, Mr. Daniel Plainview:
One of my favourite films, There will be blood, was released in the U.K. at a time when my interest in workwear inspired clothing and particularly the design work of Daiki Suzuki and Takeshi Ohfuchi was really beginning to gather momentum. The films painstakingly authentic costume design by Mark Bridges only served to fuel this interest further and the film stayed with me long after multiple trips to the cinema to see it, thanks in no small part to the clothing.
I became fixated on certain garments from the film, the work shirts and waistcoats in particular. By no means did i want to dress up as Daniel Plainview (that would be a bit odd… right?) but I was certainly looking to inject a whiff of the 'turn of the century oil baron' in to my wardrobe as I loved the mix of work wear and smart attire.
Post O'alls had alot of this kind of clothing already in their collections. Their Engineers shirt matching Daniel's work shirt particularly well. One detail I love about this shirt is the shaped watch pocket on the left breast. Still handy today for shades!
Work shirts aside though there was one item from the film that really caught my attention more than anything else. A waxed cotton (I presume), double breasted Mackinaw coat with a cord shawl collar that Daniel wears when he's scouting for oil pipe locations in the desert.
I looked for something similar to this for a long time scouting eBay and vintage shops regularly. After a year or so with no success I happened across a coat being sold through styleforum that captured the essence of Daniel's coat perfectly. Sure enough it was a Daiki Suzuki creation for Woolrich Woolen Mills. A belted Mackinaw coat from fall/winter 07.
It's a lot more heavy duty than the coat featured in the film, but a lot of the features were spot on. I couldn't really wear it whilst scouting for oil pipes in the dessert as it's super thick and very warm, but the amount of times I've found myself in that situation are so few and far between I was happily content with this winter version.
Since purchasing this coat I have of course found a multitude of variations and every one I find is annoyingly that little bit more accurate than the last. Here are some of the versions I've spotted along the way…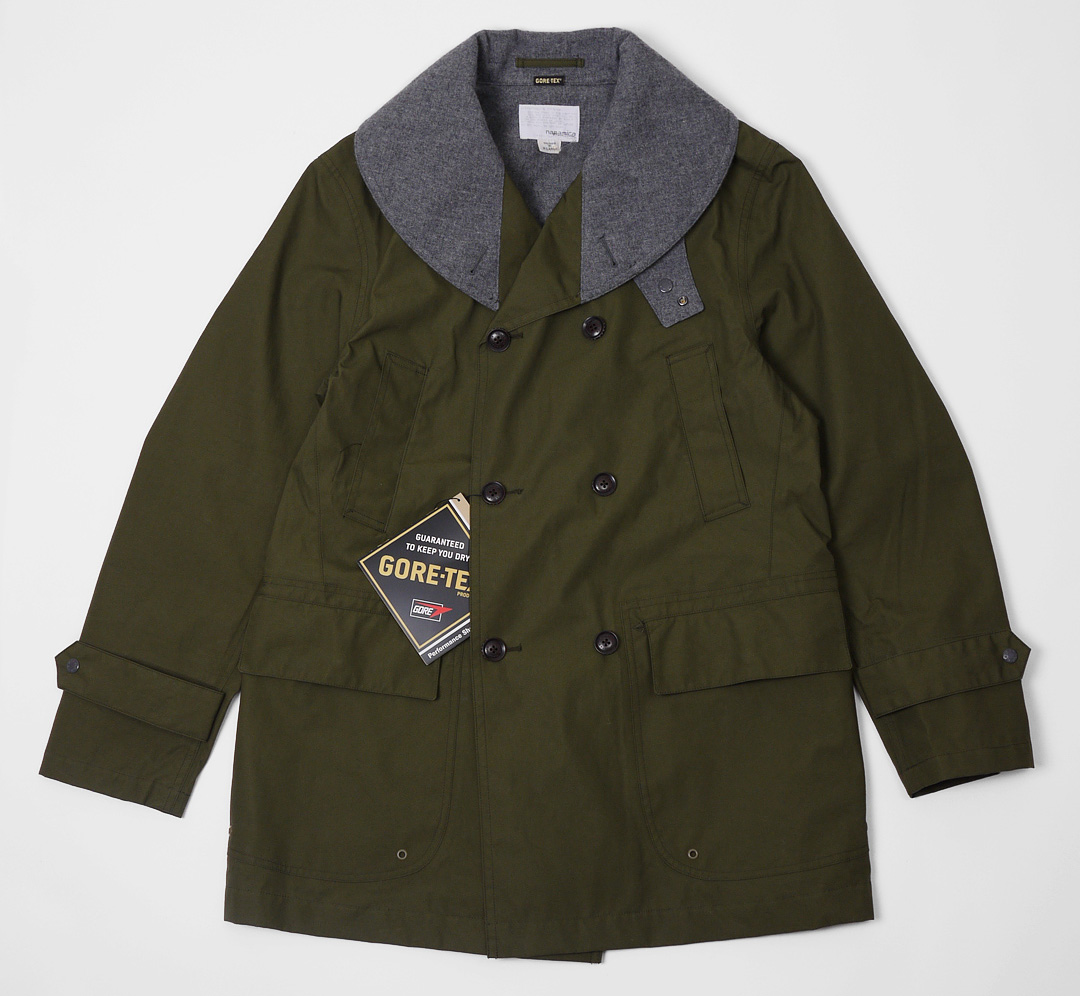 After seeing all these variations I was still pretty satisfied with my original match. It's not the most accurate, but it's a cracking coat, cuts an imposing silhouette and it's super warm in winter.
Satisfied… until… I stumbled across the real thing on a website called the Golden Closet – a site selling movie memorabilia and outfits. That's right folks, $6,500 will buy you Mr. Day Lewis' jacket he wore during his Oscar winning turn as Daniel Plainview. I'm not gonna lie, I have been tempted, but a) it's too small, b) it's a piece of cinematic history to be treasured, not worn, and c) it's $6,500 and unfortunately I'm not actually an oil tycoon and don't have that kind of cash lying around.
One day maybe someone out there will do a truly accurate replica of it, but until then I'm going to keep staring at the real one on the Golden Closet in between hunting for quail and constructing my make shift bowling alley from house ornaments. Have I taken this too far?
"I'm finished!"