On a crisp Thursday evening a (good) few weeks ago, I paid a long overdue visit to S.E.H Kelly's Boundary St HQ. I was welcomed into a warm and cosy studio-cum-showroom complete with cosy lighting and some soothing jazz that perfectly matched the mood of the evening. Paul (one of the two partners) took the time to take me through the Autumn Winter 13 collection they were about to send off to Japan, while Sara (the other partner and the brand's namesake) worked away upstairs on the mezzanine floor above.
Their studio is situated in Cleve Workshops; East London's sort-of answer to a Mews terrace, albeit a lot more (charmingly) ramshackle.
If you asked me why it's taken so long to write something proper about S.E.H Kelly here, I couldn't tell you. I've been a big fan of their brand for some time, but for one reason or another I've never gotten around to checking out their clothing in person. Laziness plays a big part in that, but mainly because I've got stuck in my ways over the past few years and edited my clothing choices down to the offers of a handful of brands. It's hard for a new brand to enter the stable as I get older as there are so many boxes I need to see ticked to kindle my interest. With age comes particularity!
Attention is first caught by an excellent product; a garment designed with a solid point of view and vision. A fetishistic love of detail is also a must. The cut needs to be spot on; classic and unaffected by trend; fitted, but comfortable. Materials need to be chosen with an inventive, but careful eye. A point of difference is great, but it needs to suit the garment seamlessly. Manufacturing should be of an exceptional standard; crafted with skill, experience and integrity. Where patterns are painstakingly cut, but corners not at all. Once that's all in place the rest should follow: a great story, a solid and consistent voice, and a great visual stance; none of which are simple to achieve in their own right.
Production
To satisfy all the above criteria would be to describe the output of S.E.H Kelly. Their garments have been quietly building up a fan base over the last few years with dedicated customers looking for a superior product from an outsider brand. Keeping a low profile in the UK and selling purely through their own showroom and online store has allowed them to a keep a Kung-Fu grip on production, keeping it small, but to an exceptional high quality. Sara and Paul hold these relationships with factories and producers close as its the key ingredient to creating the garments to the standard they demand. Factories also provide a collaborative role, providing crucial advice about production ("don't use stitched eyelets, they're rubbish; use metal ones!") and years of experience from the makers gives great insight into the accurate use and function of many pockets and details ("that hand warmer pocket isn't too shallow, it's not for hands; it's where you keep your cigs!").
To find the right partner and being able to lean on their expertise is key to many successful creative partnerships. It's telling that Sara used the word 'family' a number of times when talking about the factories as she spends as much of her time there as she does at the studio.
The production of garments is kept loosely seasonal, but many items arrive as and when. It's clear the guys believe in garments that can be worn year round as new outerwear items are starting to feature Melton wool detachable liners that can be removed in warmer months or swapped with cotton liners.
Contentment in pricing
Playing by their own rules and sticking to the aforementioned points means that the pricing of the garments is also honest and fair. Their mac which is made from the magical, but notoriously expensive material Ventile is a good example of this. Ventile is a natural cotton cloth made from extra long fibres that's difficult and time consuming to manufacture, but has incredible water repellency. It's a natural cloth so it's breathable, but it's also warm, and incredibly comfortable with a soft hand. Their Ventile mac retails at a very reasonable £350. Expect that price to be £500+ were it any other brand operating with typical overheads and fighting against wholesale prices.
S.E.H Kelly also stand by their pricing year round; a rare and unexpected quality in today's market place. If garments are offered at a fair price all year round then they don't need to enter sales. If customers understand this, they feel comfortable paying a good price for a good garment and won't hesitate to purchase worrying that the item may appear on sale next week; a mentality that is spreading through consumers these days as a side effect of menswear stores offering countless flash sales, mid season sales, free shipping etc.
Japan
Aside from the UK market S.E.H Kelly has been picked up by a clutch of key stores in Japan including Beams, Nanamica, etc. The Japanese menswear market has a feverishly nerdy interest in Britain and the hunger for quality is most certainly satisfied by S.E.H Kelly's clothing. The level of careful curation those stores have and the close scrutiny that garments under go in that menswear sphere is intense, so it's testament to S.E.H Kelly that their clothes have been selected and are out there flying the flag for British style, design, and manufacturing.
Details
A key characteristic of S.E.H Kelly's approach is details. Many of the garments are misleadingly simple on first appearance, but most are loaded with details – from construction to functional intricacies. Take their new Tour Jacket for example; a garment I feel epitomises their approach. It's a seemingly simple and stylish jacket designed for cycling. The jacket is made from Ventile, so it's waterproof, breathable and comfortable. Use of corduroy adds texture to the collar. Vents at the shoulders add movement and flexibility in the arms – a detail borrowed from hunting jackets.
It features warmer pockets, inside pockets, and cable loops to keep headphone wires in check. But the defining detail is a special strap that buttons internally just under the inside of the arms and over the coat loop, creating two carry straps to place your arms through. This allows the jacket to be shrugged off whilst riding and worn as an impromptu 'backpack'. This level of innovation and practicality, but balanced through a traditional approach and execution, defines their approach throughout the collections. I've always been sceptical about 'phone pockets' and 'cable loops', but seeing the S.E.H Kelly approach has really changed my feelings about such things. Clothes have always been designed to deal with the practicalities of life at the time; from cigarette pockets to ticket pockets, so adding features to deal with modern items isn't betraying tradition, but rather carrying on the same approach. Working it all up in fine and natural cloths helps keep it all rooted in class.
Cloth
Which brings me finally on to S.E.H Kelly's special relationship with cloth. One of their specialities is finding 'outsider' fabrics. Pea coats appear in a chunky and memorable Donegal Tweed wool, reminiscent of tweeds of old. Jumpers are made from some of the thickest wool I've ever seen – you won't find a warmer material. Their 'Tetris' tweed (named by the guys after the blocks of the video game) gives standout to a classic sports coat. Things take a further obscure twist when you throw things like their deadstock cord into the mix salvaged from an abandoned Mill in Cottonopolis and used to great effect on their new shirting. Then come the bespoke materials they're working on with weaver extraordinaire Daniel Harris. It's this intrinsic connection to the fabric that sets S.E.H Kelly apart from many other brands and almost places them in a world that's closer to Savile Row than it is to the casual menswear market. And one of the many reasons I'm going to have to start making some more space in my wardrobe.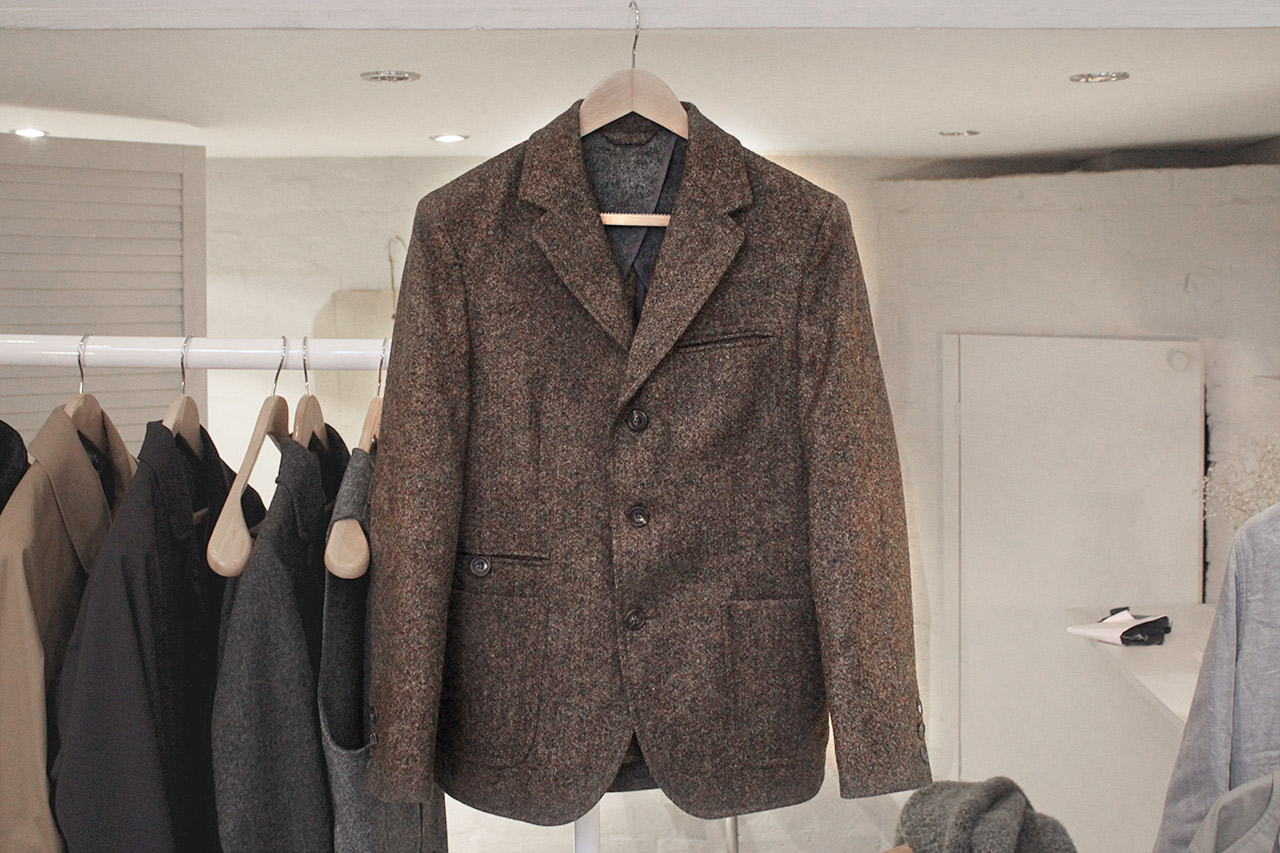 A final note
This isn't fashion. These aren't clothes to titillate the fickle and trendy. These are clothes for the wearer's joy and fulfilment. Designed, woven and stitched together with the man in mind for whom the garment is intended; the man who appreciates quality, design, style, comfort, and the very quietly extraordinary.